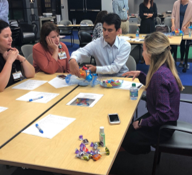 Together with the Monroe Carell Jr. Children's Hospital at Vanderbilt, the Department sponsors Quality Academy, a year-long course designed to teach quality improvement (QI) principles and science among provider, nursing, staff, and administrative leaders throughout VUMC through project-focused and didactic learning. Participants envision, create, and lead a team to complete a robust QI project focused on improving one or more of the following:
Patient outcomes
Hospital or departmental goals
Value by reducing waste
Efficiency
USNWR reporting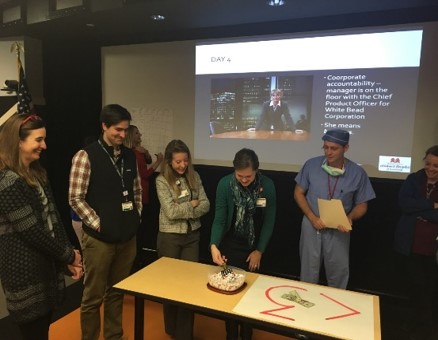 Through interactive sessions, learners become familiar with the Model for Improvement and use tools such as process mapping, key driver diagrams, and run and control charts to more effectively drive change. Each participant has a mentor who has previously graduated from Quality Academy. Graduates have published their works and presented at national meetings, and the Department specifically recognizes quality improvement work among its promotion criteria.
Recent graduates say:
"Quality Academy was a great learning experience and has without a doubt helped in my every day practice of Adolescent Medicine. Since I am not a researcher, it has provided me with a well-organized introduction to the study of quality improvement from an academic and scientific perspective. It has encouraged me to evaluate systems, processes, and how to improve health care delivery for the individual patient and the overall adolescent/young adult population. The program encourages active learning. Each participant is required to develop a tangible, accessible and meaningful individualized project to help them understand and acquire the necessary skills involved in quality improvement. My patients have benefited immensely from this course; thanks to my project we are now able to provide in-clinic phlebotomy services during regular clinic hours. Mentorship is key, and I now feel that I have a several academic mentors from a variety of disciplines within the Children's Hospital who I can lean on for support and guidance as I work on more divisional quality improvement projects."
- Debra K. Braun-Courville, MD
"Being part of the Quality Academy enhanced my knowledge in the quality improvement process. I learned how to track outcomes of the cystic fibrosis team's QI work in a measurable way, and the class connected me to a network of QI minded Vanderbilt colleagues which I can use as resources when questions arise in the development of QI projects. The outcomes for our pediatric CF patients have continued to improve through these targeted QI interventions."
- Rebekah F. Brown, MD
"My participation in the Quality Academy helped develop my skills in identifying areas of inefficiency in our scheduling process and how to improve this process. The changes made in our process increased our utilization rate, allowing for more patients to be seen sooner in our high-demand clinic."
- Paul B. Dressler, MD