Our Division is focused on excellence in clinical care, education, research, quality improvement, and advocacy related to a broad range of diseases in the diverse fields of pediatric allergy, immunology, and pulmonary medicine.
Our clinical expertise spans multiple areas that include:
Allergy-Immunology

Pulmonary Medicine

Allergic rhinitis
Asthma
Anaphylaxis
Eczema and atopic dermatitis
Eosinophilic esophagitis
Food allergies
Immunodeficiency, in the Comprehensive Hematology, Immunology, and Infectious Disease Program (CHIIP)
Medication/drug allergy
Urticaria 

Aerodigestive disorders, including the Complex Aerodigestive Evaluation Team (CADET)
Asthma
Bronchopulmonary Dysplasia
Cystic Fibrosis
Primary Ciliary Dyskinesia
Pulmonary Vascular Disease, including Pulmonary Hypertension
Neuromuscular/Duchenne Muscular Dystrophy
Rare Lung Disease
Sleep Disorders
Our clinical programs have received national recognition, including the Cystic Fibrosis Foundation Quality Award at our most recent CF Program accreditation renewal in 2018. Our Primary Ciliary Dyskinesia (PCD) Center is accredited through the PCD Foundation Clinical and Research Centers Network, and our Pulmonary Hypertension Program is one of only eight pediatric programs in the nation accredited as a Pulmonary Hypertension Comprehensive Care Center.
Our research mission parallels areas of clinical expertise, and our division faculty are collaborators on numerous national and international studies, including clinical trials, to facilitate clinical research in focuses across their fields of study. Eric Austin, MD, MSCI and Christian Rosas-Salazar, MD, MPH are dedicated physician-scientists leading vibrant translational research programs. Leonard Bacharier, MD is a physician-scientist who is an international expert in childhood asthma. Allison Norton, MD does clinical research on pediatric drug allergy and antibiotic allergy de-labeling. Drs. Rachel Robison and Stacy Dorris engage in food allergy research, including clinical trials, with other centers from across the country through our participation in Food Allergy Research & Education (FARE) as a Center of Excellence. Yasmin Khan, MD is a member of the State Genetic Advisory Board and serves as medical advisor for issues related to newborn screening for immunodeficiency. She also works in the Comprehensive Hematology, Immunology, and Infectious Diseases Program (CHIIP), a multidisciplinary clinic that has partnered with the Human Immunology Discovery Initiative (HIDI) through the Vanderbilt Center for Immunology to help better understand the immunology of these complex disorders. Paul Moore, MD oversees research efforts related to child born prematurely with bronchopulmonary dysplasia (BPD).
Our division is dedicated to training the next generation of clinicians and physician-scientists, and our academic program is designed to provide an all-encompassing clinical experience in pediatric pulmonology. Additionally, the Allergy-Immunology Fellowship Program is sponsored in the Department of Medicine and welcomes pediatric residents interested in fellowship training.
Thanks for your interest, and I invite you to learn more about the division through our website and to contact us with questions and interest in collaboration.
Sincerely,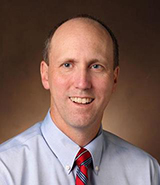 Paul E. Moore MD
Professor of Pediatrics and Pharmacology
Division Director, Pediatric Allergy, Immunology, and Pulmonary Medicine