Welcome to the Department of Pediatrics at Vanderbilt University Medical Center. As one of the largest departments within the medical center, we are proud to be home to some 450 primary faculty, 280 community-based volunteer faculty, 127 residents, and over 300 administrative and research staff. The Department is rooted in a rich history of commitment to excellence in research, education, and patient care. Our faculty, fellows and trainees represent the very best of academic medicine – extraordinary people doing incredible things to advance the care for children in Middle Tennessee, across the nation, and throughout the world. The result is a Department which reaches far beyond the walls of our hospital to provide high-quality patient care, to train the next generation of leaders in pediatric medicine, and to advance our knowledge of important conditions that affect vulnerable infants and children through world class research.
Diversity and inclusion are core values of the Department of Pediatrics. We strive to have a workforce that represents our community, and we are deeply committed to advancing health equity for the diverse patient populations that we serve. Click here to learn more about our diversity, equity, and inclusion efforts.
The Department is primarily housed within the Monroe Carell Jr. Children's Hospital at Vanderbilt but offers care at some 30 locations across Tennessee. The Children's Enterprise is fully integrated within the main Vanderbilt University Medical Center (VUMC) campus, which includes the Vanderbilt University Hospital, the Ingram Cancer Center, the Vanderbilt Psychiatric Hospital, the Stallworth Rehabilitation Hospital, and the Vanderbilt Institute for Global Health. Our teams also support pediatric services at our outlying community hospitals.
Our full integration within VUMC and Vanderbilt University School of Medicine provides ready access to phenomenal collaborators and world-class facilities and resources for our faculty and trainees. We are a leading pediatric research center consistently ranking in the top 10 for NIH funding among academic departments of pediatrics with annual research awards of approximately $100M, the majority coming from Federal sources, including NIH. Our investigators have made enormous contributions to research in the area of COVID-19 and work in the Department has directly supported the development of new vaccines, antiviral agents, and monoclonal antibody therapies against SARS-CoV-2 infection.
The Department is home to world-class educators who take great pride in the quality of our training programs for our medical students, residents, and fellows. Vanderbilt has trained approximately 40% of all pediatricians currently practicing in Tennessee. Our training programs also include a world-class pediatric physician-scientist training program (PPSTP).
Nashville, Tennessee is a thriving community of commerce, finance, healthcare, and music. It has been named the "Best Up-and-Coming City"1 and falls among the Top 15 Best Cities in the United States2. In 2023, Nashville ranked fifth in The South's Best Cities3. The Nashville metropolitan area is estimated to be home to over 2.05 million people and is diverse and constantly growing.
Whether you have come to our website as a prospective applicant to one of our highly regarded training programs, an investigator interested in the groundbreaking research within the Department, or you are interested in learning more about the things we do each day to improve child health, I hope you will take the time to explore our site. If you want to learn more or you'd like to connect with us, please don't hesitate to contact our department.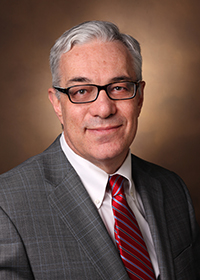 Steven A. Webber, MBChB, MRCP
James C. Overall Professor and Chair, Department of Pediatrics
Vanderbilt University School of Medicine
Pediatrician-in-Chief
Monroe Carell Jr. Children's Hospital at Vanderbilt
12022 Hemisphere Readers' Choice Awards, "Best Up-and-Coming City"
2Travel and Leisure, The 15 Best Cities in the United States (2022)
3Southern Living, The South's Best Cities (2023)