Founded in 1979, the Division of Adolescent and Young Adult Health is committed to improving the health and well-being of adolescents, young adults, and their families through excellence in clinical care, education, research, and advocacy.
Our multidisciplinary clinic includes specialists in adolescent medicine, nutrition, psychiatry, social work, and sports medicine. 
Our faculty are renowned for their educational efforts, clinical skills, and commitment to research and quality improvement efforts to advance adolescent and young adult health.  Our faculty's academic endeavors include educational, research, and quality improvement initiatives focused on:
Reproductive Health Care
Long-Acting Reversible Contraception
Feeding and Eating Disorders
Global Health

HIV care
HIV Pre-exposure Prophylaxis
Transitions to Adult Health Care
Gender-affirming Health Care
Our Division provides educational opportunities for students and residents.  The faculty have garnered awards for their excellence in medical education, lectures, and interprofessional learning programs. 
The Division has a strong presence nationally as experts in education, thought leadership, and research in adolescent and young adult health.  Members of the faculty hold key leadership positions in the most prominent national organizations that influence adolescent and young adult health care and health education, including the American Academy of Pediatrics, American Board of Pediatrics, Society for Adolescent Health and Medicine, and the North American Society for Pediatric and Adolescent Gynecology.
I encourage you to learn more learn more about the division through our website and invite you to contact us regarding opportunities for education, training and collaborations.
Sincerely,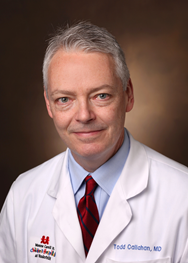 S. Todd Callahan, MD, MPH
Director, Division of Adolescent and Young Adult Health
Professor of Pediatrics