Since its inception in 1962, the Ian M. Burr Division of Pediatric Endocrinology and Diabetes has been dedicated to excellence in patient care and research in childhood diabetes, obesity, metabolic bone disease, and other endocrine disorders. Following the example of the division's namesake, Ian M. Burr, MD, PhD, our mission is to train highly capable academic pediatric endocrinologists and to set standards of care for the treatment of hormone disorders in children. As of early 2020, our faculty includes 14 endocrinologists, a research psychologist, and six specialized advanced practice nurses. Areas of research excellence include programs including, but not limited to:
Restoring immune tolerance in type 1 diabetes (T1D)
Early risk detection and prevention of T1D
Examining how subcutaneous insulin dosing perturbs normal physiology and adversely influences long-term complications
Studying brain effects of dietary fat in obesity
Adolescent coping and sleep disorders in T1D

Neurocognitive consequences of T1D in the very young
Monogenic causes of early-onset obesity
Pharmacologic treatment of obesity
Pharmacologic treatment of rare bone disorders
Systemic quality improvement in our clinical programs
Our research programs have attracted international attention and financial support from the NIH, NSF, JDRF, American Diabetes Association, and multiple foundations. A unique strength of the division is our incorporation of clinical research into our outpatient care settings, allowing every patient access not only to world class clinical care, but also the opportunity to participate in innovative clinical research to redefine the care of the future. 
Our trainees, supported by several institutional training grants (T32), have access to research mentors in over 150 endocrinology- and diabetes-focused laboratories across 15 departments, two schools and three colleges at Vanderbilt University. Our training programs have spawned academic careers in molecular, preclinical, clinical, systems, and global health-focused research that focuses on children's endocrine health. Many trainees have gone on to NIH-funded individual training and mentored training grants (K12, K08, K23, F30 and F31).
The exceedingly broad spectrum and large number of children with endocrine conditions who are referred to our clinical programs provides the opportunity for unmatched clinical training. The Children's Diabetes Program alone cares for over 2,900 children with diabetes from nine states -- 85% of them with T1D. Our Pediatric Metabolic Bone Disease Program follows over 400 children with rare genetic bone diseases including XLH, HPP, and OI as well as various forms of osteopenia. Multidisciplinary specialty clinics based in the division exist for children with Turner Syndrome, pediatric lipid disorders, Prader-Willi Syndrome, pre-type 2 diabetes, CF-related diabetes, hereditary bone diseases, and diabetes behavioral medicine. These provide exposure to the most complex and the rarest of endocrine disorders in children for trainees at all levels.
We are a well-integrated and congenial group of colleagues with a clear focus on advancing the endocrine health of all children. We welcome your enquiries about our research, training programs, and innovative clinical efforts.
Sincerely,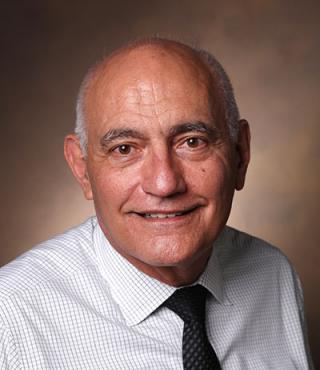 William E. Russell, MD
Director, Ian M. Burr Division of Pediatric Endocrinology and Diabetes
Cornelius Vanderbilt Professor of Pediatrics
Professor of Cell and Developmental Biology