For over 40 years, our division has been dedicated to excellence in patient care, training and research in pediatric infectious diseases. Our mission is to foster knowledge through research, teaching and training of physicians and scientists, as well as the delivery of superb clinical care, with the overarching goal of improving childhood health. We are home to a diverse group of physicians whose professional interests span across multiple areas of pediatric infectious diseases:
vaccine development, safety, and trials
viral and bacterial infections
pediatric and adolescent HIV
global health

antimicrobial stewardship
immunocompromised patient infections
transplant immunology and infections
Our team is continually at the forefront of research in new and innovative approaches to the diagnosis, treatment and prevention of pediatric infections. With a multi-million dollar research funding program, our faculty, staff, and students are daily committed to fundamental and clinical discovery to benefit the health of children. The diversity of our research is impressive in scope, spanning from studies of the molecular basis of bacterial and viral infections and antimicrobial discovery, to antibiotic surveillance, vaccine trials, emerging infections countermeasures, and outcomes of treatments in South America and Africa. Our faculty direct and/or have appointments in the Institute for Global Health, the Vanderbilt Vaccine Center, the Vanderbilt Vaccine Research Program, and the Vanderbilt Institute for Infection, Immunity and Inflammation.
Many Division members have been recognized with major awards and honors for their research in the past year, including: The Pediatric Infectious Diseases Society 2019 Young Investigator Award; the first Merck KGaA, Darmstadt 2019 Future Insight Prize; the T.J. Martell Foundation 2019 Medical Research Advancement Award; and the 2019 Ernest W. Goodpasture Award for Outstanding Contributions to Research.
Education and training are integral to all aspects of our mission. This includes clinical training for residents and medical students, and research training and career development for faculty, fellows, PhD graduate students, postdoctoral scientists, and visiting international scholars. Our faculty and trainees have obtained competitive training grant funding from the National Institutes of Health, national and international private industries, and private foundations. The Division is home to a postdoctoral training grant (T32) in pediatric infectious diseases and multiple NIH individual training grants and career development awards (K12, KL2, K08, K23, F30, F31 and other).
Our student, fellow and faculty alumni have achieved national and international prominence and leadership positions as Pediatric Infectious Diseases division directors, department chairs, research directors at global pharma companies, NIH and CDC staff and scientists, and academic pediatric infectious diseases physician-scientists. 
I invite you to learn more about the division through our website and contact us regarding opportunities for education, training and collaborations.
Best regards,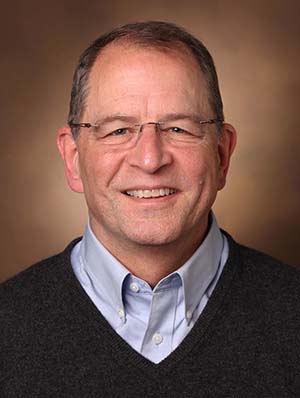 Mark R. Denison, MD
Director, Division of Pediatric Infectious Diseases
Edward Claiborne Stahlman Chair

Professor of Pathology, Microbiology & Immunology
Director, Lamb Center for Pediatric Research