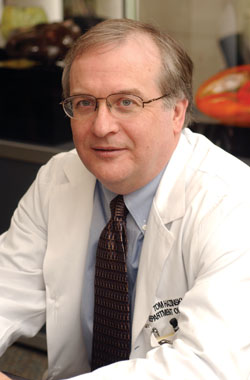 Thomas A. Hazinski, MD will be remembered for many things in life, but two stand out above all others –  a thriving career at Vanderbilt University Medical Center that embraced patients, doctors, researchers, nurses, and staff; and a deep devotion to his family.
Dr. Hazinski built Vanderbilt's Division of Pediatric Pulmonary Medicine from scratch and served as Associate Dean for Faculty Affairs. He was also Professor of Pediatrics and Medical Education and Administration, Associate Chair of the Department of Pediatrics, and Director of the Division of Pediatric Pulmonary Medicine.
Dr. Hazinski was a native of South Bend, Indiana. He received his undergraduate degree from the University of Notre Dame in 1971 and his medical degree from St. Louis University in 1975. He joined the Vanderbilt faculty in 1984.
His career at Vanderbilt was multi-faceted. In addition to directing the Division of Pediatric Pulmonary Medicine, he conceptualized and implemented Vanderbilt's Master of Science in Clinical Investigation program with Nancy J. Brown, MD. He was a member of a number of professional organizations, including The Society of Pediatric Research, of which he was past president; the American Pediatric Society, the American Physiological Society, and the Perinatal Research Society. He had been included in the Best Doctors in America medical referral guide since 1998.
In 2004, Dr. Hazinski assumed the newly created position of Associate Dean for Faculty Affairs, where he monitored issues relating to faculty promotion and tenure and conflict of interest, helped identify and eliminate obstacles to faculty productivity, and otherwise supported the faculty through mentoring, personal counseling, and professional development programs.