Our program is directed towards the development of strong pediatric pulmonologists, who are not only excellent clinicians, but dedicated educators, researchers, and leaders in the field of pediatric pulmonary medicine.
We believe that developing the next generation of pediatric pulmonologists requires a high commitment not only by the trainee, but perhaps more importantly, a high commitment of the training institution as well. The commitments of the trainee to learn and grow in this exciting field must be equaled by the programs ability to support the academic and personal goals of the trainees. To that end, our fellowship program annually seeks highly-rated pediatric residents and pediatricians to join our cohesive group of existing fellows and faculty to embark on a journey of education and growth within the field of Pediatric Pulmonology.
Our academic-based program is designed to provide an all-encompassing clinical experience in Pediatric Pulmonology through our faculty's broad range of clinical interests and our large area of referral which includes Tennessee and large portions of Northern Alabama as well as Southern Kentucky. Coupling this clinical experience with the exposure to a diverse group of faculty and staff who pursue scientific inquiry within the academic and clinical spaces of the medical center and university provides a well-rounded fellowship experience for all career paths.
Our division's faculty has a wide array of clinical and research interests including:
Cystic fibrosis
Severe asthma
Pulmonary hypertension
Rare/interstitial lung disease
Complex aerodigestive cases

Bronchoscopy
Bronchopulmonary dysplasia
Sleep medicine
Neuromuscular disease
Mechanical ventilation/technology dependence
It is because of this broad range of interests that we are able to mentor and foster creativity in research and patient care for our trainees.
Whether you seek to be a clinical educator, a physician scientist or any other path in between, our training program is equipped to fit these needs. We look forward to hearing from you!
Sincerely,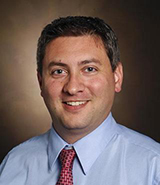 Andrew Sokolow, MD
Fellowship Director, Pediatric Pulmonology Fellowship
Associate Director, Pediatric Cystic Fibrosis Program
Assistant Professor of Pediatrics, Division of Allergy, Immunology and Pulmonary Medicine