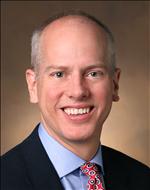 William O. Cooper, MD, MPH
Cornelius Vanderbilt Professor
Pediatrics and Health Policy
Vice Chair for Faculty Affairs
Associate Dean for Faculty Affairs
Office of Faculty Affairs
Center for Patient and Professional Advocacy
Delivery Address
2135 Blakemore Avenue
Nashville
Tennessee
37212
Specialty
General Pediatrics
M.D.
Vanderbilt University, 1991
Residencies
Pediatrics Residency-Cincinnati Children's Hospital Medical Center
Pediatrics Chief Residency-Cincinnati Children's Hospital Medical Center
Fellowship
General Academic Pediatric Fellowship-Vanderbilt University Medical Center
M.P.H.
Vanderbilt University, Nashville, TN, 1997
Clinical Interests
Pharmacoepidemiology, Medicaid, TennCare, health disparities, pregnancy, faculty development, professionalism
Research Information
Dr. Cooper is an epidemiologist with a research program focused on the effects of medications on vulnerable populations of children and the impact of health care systems on patient outcomes.  He has published more than 150 manuscripts describing population-based studies of medication use in children and pregnant women in journals such as New England Journal of Medicine, JAMA, Pediatrics, Journal of Pediatrics, JAMA Pediatrics, JAMA Surgery, JAMA Psychiatry.
Dr. Cooper's research has focused on assessing the safety of medications for a variety of vulnerable populations, including studies of adverse fetal outcomes following psychotropic drugs in children and exposures to medications during pregnancy for populations of women in the Tennessee Medicaid program, with studies of ACE inhibitor exposures and cardiac malformations, effects of antibiotics taken during pregnancy, the fetal effects of immunosuppressive medications taken for autoimmune conditions, and work exploring the fetal effects of opioid medications taken during pregnancy. He has also studied health outcomes for vulnerable populations of children with sickle cell disease. More recent work has focused on the intersection of physician professionalism and health outcomes. He has successfully competed for funding to support his research program and has been the principal investigator for 10 federally funded research projects.
Dr. Cooper's work has influenced policy, including medication labeling by HealthCanada, the US Food and Drug Administration, and the UK MHRA. The Agency for Healthcare Research and Quality released a special Request for Applications for further study of the issue of ACE inhibitor use during pregnancy. By influencing practice in this way, Dr. Cooper's work has reduced the likelihood that children will experience entirely preventable major malformations.
Dr. Cooper has also been a highly effective mentor, having successfully mentored 30 individuals; many currently hold faculty positions and have successfully obtained K awards and R awards.