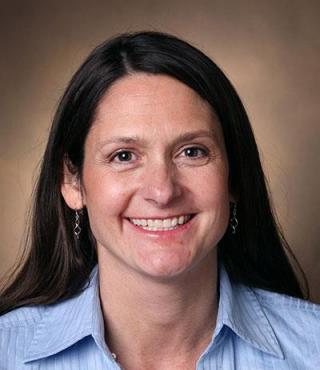 Delivery Address
Village at Vanderbilt
1500 21st Ave South
Nashville
Tennessee
37212-8285
Specialty
Endocrinology, Pediatric
M.D.
University of Tennessee, College of Medicine, Memphis, TN, 2000
Residency
Pediatric Residency-The Children's Hospital, Denver, CO
Fellowship
Pediatric Endocrinology and Diabetes Fellowship-The Children's Hospital, Denver, CO
Clinical Interests
Metabolic bone disease, osteogenesis imperfecta, hypophosphatemic rickets, hypophosphatasia, osteoporosis, type 1 diabetes, growth disorders, puberty disorders, thyroid disorders
Research Information
Dr. Jill Simmons is a Professor of Pediatrics in the Ian M Burr Division of Pediatric Endocrinology and Diabetes at Vanderbilt University Medical Center. She graduated from the University of Tennessee College of Medicine, and she completed her pediatric residency and fellowship in Pediatric Endocrinology and Diabetes at the University of Colorado Children's Hospital and Barbara Davis Center for Childhood Diabetes. She joined the faculty at Vanderbilt University Medical Center in 2006. She is the founder and director of the Vanderbilt Program for Pediatric Metabolic Bone Disorders, the founder and chair of the Hazinski Society for Faculty Development, and the Director for Faculty Mentorship Programs in the Department of Pediatrics at Vanderbilt University. She is a member of the scientific advisory board for Soft Bones as well as the Rare Bone Disease Alliance.
Dr. Simmons' clinical and research interests include type 1 diabetes as well as pediatric metabolic bone diseases such as hypophosphatasia, osteogenesis imperfecta, osteoporosis, and rickets. She has been a successful local principal investigator for multiple groundbreaking clinical trials in metabolic bone disease, including asfotase alpha in infants with severe hypophosphatasia, romozosumab and setrusumab in pediatric patients with osteogenesis imperfecta, and burosumab in pediatric patients with hypophosphatemic rickets. She is also an active investigator in several international longitudinal observational registries and multiple ongoing clinical trials.
Dr. Simmons has published more than 70 manuscripts in peer reviewed journals, including but not limited to The New England Journal of Medicine, The Lancet, The Journal of the American Medical Association, The Journal of Pediatrics, and Diabetes Care. She serves as a regular reviewer for journals in her field and regularly presents her research at national and international meetings.
In addition to her research, she is an active clinician and educator. She spends the majority of her time with patients as well as educating pediatric residents and endocrinology fellows to better care for children with endocrine diseases. She has won the highest patient experience award at Vanderbilt University Medical Center every year since its inception in 2017.