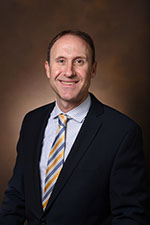 Eric D. Austin, MD, MSCI
Associate Professor of Pediatrics
Allergy/Immunology/Pulmonary Medicine
Director, Vanderbilt Pediatric Pulmonary Hypertension Program
Allergy/Immunology/Pulmonary Medicine
Delivery Address
Doctors' Office Tower
2200 Children's Way
Nashville
Tennessee
37232-9500
Specialty
Pulmonary Medicine, Pediatric
M.D.
Emory University School of Medicine, 2001
M.S.
Vanderbilt University School of Medicine, Nashville, TN, 2008
Residencies
Chief Residency-University of Colorado Health Sciences Center
Pediatric Residency-University of Colorado Health Sciences Center
Fellowship
Pediatric Pulmonary Fellowship-Vanderbilt University Medical Center
Clinical Interests
Pulmonary hypertension, pulmonary vascular disease, rare lung disease
Research Information
Dr. Austin is a physician-scientist specializing in translational research studies. The Austin Research Lab is a combined laboratory-based and patient-oriented translational research program that focuses on pulmonary hypertension and other cardiopulmonary morbidities in children and adults with and without preexisting known genetic risks. Our research team achieves success via close collaboration with multiple other investigative groups, particularly our colleagues in the Vanderbilt University Pulmonary Vascular Research Program (VUPVRP).
Our lab conducts a variety of short and long-term research studies with a variety of human subjects, including patients with pulmonary hypertension (PH), family members at genetic risk of developing PH, individuals with other forms of risk, and healthy subjects. In particular, our expertise focuses on evaluating the manner in which genetic, biochemical, environmental and other variations promote phenotypic expression of PH and other cardiopulmonary diseases in children and adults. We often pursue deep phenotyping in concert with biologic sample acquisition for genetic and biochemical studies at regular intervals.
To accomplish these pursuits, we employ both direct human studies and preclinical mechanistic investigations to improve our understanding of the pathogenesis of PH, especially pulmonary arterial hypertension. Applications of our work include clinical trials of novel agents for PH, sequencing and proteomic studies to identify novel variations associated with PH, pharmacoepidemiologic investigations, and biologic marker studies of perturbed sex hormone metabolism in humans with PH.
The collaborative interactions within the Vanderbilt University Pulmonary Vascular Research Program (VUPVRP) provide a rich milieu for investigation of children and adults with PH and other pulmonary vascular diseases. In total, the VUPVRP supports a wide range of studies from cells to animal models to humans. These include studies ranging from genetic and genomic investigations in humans, to in vitro-in vivo-ex vivo studies in cells and animals, to epidemiologic studies in humans, to investigator-initiated clinical trials in humans.