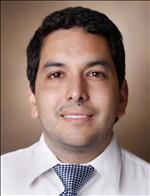 Christian Rosas-Salazar, MD, MPH
Assistant Professor of Pediatrics
Allergy/Immunology/Pulmonary Medicine
Delivery Address
Doctors' Office Tower
2200 Children's Way
Nashville
Tennessee
37232-9500
Specialty
Pulmonary Medicine, Pediatric
M.D.
Universidad Autonoma de Guadalajara School of Medicine, Guadalajara, Mexico, 2002
M.P.H.
University of Pittsburgh Graduate School of Public Health, Pittsburgh, PA, 2013
Residency
Pediatric Residency-Children's Hospital of Michigan, Detroit Medical Center, Wayne State University, Detroit, MI
Fellowships
Pediatric Pulmonary Medicine Fellowship-Children's Hospital of Pittsburgh, University of Pittsburgh Medical Center, University of Pittsburgh, Pittsburgh, PA
Clinical Research Fellowship-Career Education and Enhancement for Health Care Research Diversity Program, Institute for Clinical Research Education, University of Pittsburgh, Pittsburgh, PA
Clinical Interests
Severe asthma, recurrent wheeze, lower respiratory tract infections, pediatric pulmonary medicine
Research Information
Dr. Christian Rosas-Salazar is a pediatric pulmonologist and physician scientist with expertise in clinical and translational research. The main goal of his research is to identify pre-, peri-, and post-natal risk and protective factors for the development of common childhood respiratory diseases, including bronchiolitis and asthma. In particular, his current scientific program focuses on 1) examining genetic, environmental, sociodemographic, and lifestyle factors that shape the early-life respiratory microbiome, 2) evaluating the role of the early-life respiratory microbiome in the programming of the immune response, the severity of acute viral respiratory infections in infancy, and the origins of pediatric asthma phenotypes, and 3) developing novel interventions to manipulate the early-life respiratory microbiome with the ultimate purpose of preventing acute and chronic lung diseases in children.
Dr. Rosas-Salazar's multidisciplinary team leverages a broad range of knowledge spanning the fields of epidemiology, microbial ecology, multi-omics, infectious diseases, and pediatric pulmonary medicine. His group uses a combination of patient-oriented research, next-generation sequencing, high-throughput immunoassays, novel bioinformatics, and other state-of-the-art technologies to continue to advance our understanding of the determinants of childhood respiratory health.
Dr. Rosas-Salazar's prior studies have been published in some of the most important scientific journals, including The Lancet, The American Journal of Respiratory and Critical Care Medicine, The Journal of Allergy and Clinical Immunology, Chest, Thorax, and The Journal of Infectious Diseases. His scientific program has been supported by funds from the Parker B. Francis Fellowship; Vanderbilt University Medical Center; the National Institute of Allergy and Infectious Diseases; the National Heart, Lung, and Blood Institute; and the Environmental Influences on Child Health Outcomes of the National Institutes of Health. Furthermore, his contributions to research have been recognized by honors from the American Thoracic Society, the American College of Chest Physicians, the Society for Pediatric Research, and the Delta Omega Honorary Society in Public Health, among others.