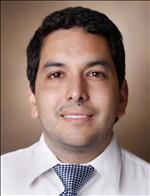 Christian Rosas Salazar, MD
Assistant Professor of Pediatrics
Allergy/Immunology/Pulmonary Medicine
Delivery Address
Doctors' Office Tower
2200 Children's Way
Nashville
Tennessee
37232-9500
Specialty
Pulmonary Medicine, Pediatric
M.D.
Universidad Autonoma de Guadalajara School of Medicine, Guadalajara, Mexico, 2002
M.P.H.
University of Pittsburgh Graduate School of Public Health, Pittsburgh, PA, 2013
Residency
Pediatric Residency-Children's Hospital of Michigan, Detroit Medical Center, Wayne State University, Detroit, MI
Fellowships
Pediatric Pulmonary Medicine Fellowship-Children's Hospital of Pittsburgh, University of Pittsburgh Medical Center, University of Pittsburgh, Pittsburgh, PA
Clinical Research Fellowship-Career Education and Enhancement for Health Care Research Diversity Program, Institute for Clinical Research Education, University of Pittsburgh, Pittsburgh, PA
Clinical Interests
Childhood wheezing phenotypes, asthma, bronchiolitis, exercise-induced bronchoconstriction, lung atopic disorders, reactive airway disease
Research Information
Dr. Christian Rosas-Salazar is a pediatric pulmonologist and physician scientist with broad expertise in clinical and translational research and a primary investigator at the Center for Asthma Research at Vanderbilt University Medical Center. The main goal of his research is to identify and better understand early-life risk factors for the development of childhood respiratory diseases, with the ultimate goal of designing primary prevention strategies for these conditions. His current research focuses on 1) examining the role of the infant respiratory and gut microbiome in the origins of childhood asthma and the programming of the immune response, 2) the discovery of biomarkers of the development and severity of acute respiratory infections and childhood asthma, and 3) assessing genetic, environmental, and sociodemographic factors that explain health disparities in childhood asthma.
Dr. Rosas Salazar has built multiple partnerships with other scientific enterprises at Vanderbilt University Medical Center (including the Das Laboratory, the Vanderbilt Technologies for Advanced Genomics Center, the Vanderbilt Microbiome Initiative, and the Vanderbilt Institute for Clinical and Translational Research), as well as outside academic institutions and private research organizations. These collaborations allow him to use next-generation sequencing techniques, novel laboratory assays, and complex bioinformatic approaches to advance our current knowledge of pediatric pulmonary diseases.
Dr. Rosas Salazar's research contributions have been recognized by honors from the American Thoracic Society, the American College of Chest Physicians, the Society for Pediatric Research, and the Delta Omega Honorary Society in Public Health, among others. His prior and ongoing research has been generously supported by the Parker B. Francis Fellowship Program, the Katherine Dodd Faculty Scholars Program and the K12 Mentored Research Scholars Program of the Department of Pediatrics at Vanderbilt University Medical Center, and the National Institutes of Health. His research has been published in numerous high-impact journals, including the American Journal of Respiratory and Critical Care Medicine, Thorax, Chest, the Journal of Allergy and Clinical Immunology, Pediatric Pulmonology, the Journal of Pediatrics, and the Journal of Infectious Diseases.