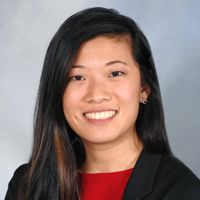 Medical School: University of Cincinnati College of Medicine
College: Vanderbilt University
Wendi was born in Houston, Texas, grew up in Little Rock, Arkansas, and later spent most of her teenage life in Cleveland, Ohio where she calls home. She then ventured back down south, where she attended undergrad at Vanderbilt University and double majored in Psychology and Medicine, Health, and Society.  In her free time, Wendi enjoys outdoor activities of all sorts, including hiking, biking, and running. She also loves trying new foods and new bars and can be regularly found on Yelp, scouting for new places to visit. Nashville has introduced her to the world of country music and she is excited to enjoy all the live music and amazing food "Music City" has to offer. Her family means the world to her and she could not have made it to this point without them.