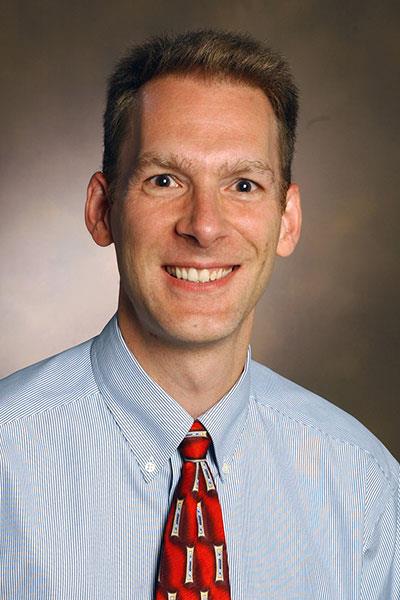 Kevin C. Ess, MD, PhD
Associate Professor of Pediatrics
Gerald M. Fenichel Chair in Neurology
Division of Pediatric Neurology
Office Address
Doctors' Office Tower
2200 Children's Way
Nashville
Tennessee
37232
Specialty
Neurology, Pediatric
M.D.
University of Cincinnati, Cincinnati, OH, 
Residency
Pediatric Neurology Residency-St. Louis Children's Hospital, Barnes-Jewish Hospital and Washington University School of Medicine, St. Louis Missouri
Fellowships
Postdoctoral Research Fellowship-Washington University School of Medicine
Clinical Neurophysiology Fellowship-St. Louis Children's Hospital
Ph.D.
Department of Developmental Biology, University of Cincinnati, Cincinnati, OH,
Clinical Interests
Tuberous sclerosis complex, epilepsy
Research Information
Research in Kevin Ess' laboratory is focused on deciphering the molecular mechanisms required for typical brain development and how disruptions of these processes lead to malformations of the cerebral cortex. Children with such aberrations typically suffer from severe seizure disorders (epilepsy) as well as severe cognitive and behavioral problems such as autism. To approach these complex neurologic disorders, Ess has been studying tuberous sclerosis complex (TSC), a disease that prominently features cortical malformations and is caused by loss of either the TSC1 or TSC2 genes. TSC is quite prevalent and is the most common genetic cause of seizures and autism in children. To study these complicated abnormalities of the human brain, Ess has generated experimental models of TSC using genetically engineered mice, zebrafish as well as human induced pluripotent stem cells (iPSCs). His long-term goal is to use these models to precisely define the molecular pathways used by the TSC1/2 genes during human brain development. This knowledge will facilitate the development of more efficacious therapies for children who have epilepsy or autism. The Ess lab has also been interested in a more recently defined disorder, alternating hemiplegia of childhood (AHC), a devastating neurodevelopmental disorder due to mutations in the ATP1A3 gene. To study abnormal developmental processes in AHC, we have also utilized human iPSCs. Our basic and translational research approaches should culminate in advanced knowledge about pediatric neurological disorders and hopefully lead to the development of novel and more effective therapies for AHC and related disorders.