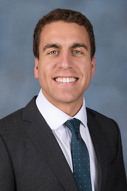 Medical School: University of Alabama at Birmingham
College: Tufts University
Gabriel was born in Nashville, Tennessee at Vanderbilt Hospital, but soon moved to Birmingham, Alabama where he spent the remainder of his childhood. He attended Tufts University in Massachusetts where he obtained his Bachelor's degree in biology. After college, he spent a summer as a cabin counselor at the Hole in the Wall Gang Camp working with children with serious illnesses before coming home to the Deep South for medical school at UAB. His hobbies include hiking, cycling, tending to his dwarf yuzu tree, making dad jokes, cooking, and (most importantly) eating with friends and family. Gabriel is excited to return to Nashville now that he is newly married, a few feet taller, and his language and motor skills are slightly more developed.